Culinary Prodigy to Travel Halfway Around the World to Judge 2017 International Young Chef Olympiad in India!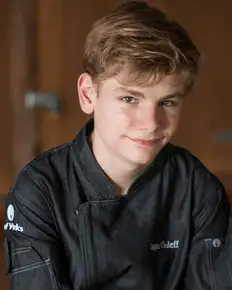 Logan Guleff, 14, a James Beard Winner and MasterChef Junior Winner, will be judging at the World International "Young Chef Olympiad" event held in India. Young chefs from around the world will represent their country in a cook-off that will last 4 days starting29th January to 1st February 2017. The event brings the best culinary talent from across +67 different nations to India.
"This a huge honor to judge at the International Young Chef Olympiad," says Logan. He adds, "The love of food is truly shared across cultures and continents. Judging dishes is never easy, I know the effort, passion, and creativity that one invests in a dish. This is a very elite competition of future chefs from around the world competing against one another. And I will be experiencing every bite of it."
The Grand Finale will to be held in Kolkata, India on 1st February, 2017.
Check out Logan's interview from when he was a guest on the Dreamers Podcast.
About Logan
Logan Guleff – Since appearing on The Today Show at the age of 9 to demonstrate a recipe he submitted to JIF's Most Creative Sandwich Contest, the 2014 MasterChef Junior champion has become a rising star in the culinary world. He has been named one of The 30 Most Influential Teens by Time Magazine, Southern Living's Best New Southern Cook, and earned a spot on Fortune's 18 Under 18 list; he's also the youngest certified judge for the World Championship Barbecue Cooking Contest in Memphis and the youngest James Beard Winner as well as the youngest chef to cook at the historic James Beard House in New York City.
Young Chef Olympiad is a culinary competition organized by International Institute of Hotel Management and the Ministry of Tourism, Government of India.
Connect with Logan
Blog:          http://orderupwithlogan.blogspot.com/
Instagram:  http://instagram.com/Logan.Jr.Chef
YouTube:   http://tinyurl.com/ojtd2vg
Facebook:  https://www.facebook.com/LoganJuniorChef
Twitter:      https://twitter.com/LoganJrChef