I was a panelist on a @DJWithPassion #Podcast talking about #purpose!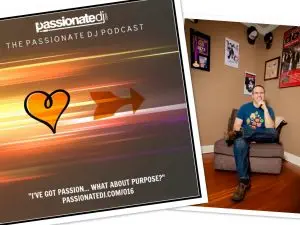 I was really happy when friend of Dreamers Podcast David Michael from Passionate DJ asked me to be on my third episode of his podcast for DJs. Talking about what it means to have purpose.
Read more..
In this episode of the podcast, I bring in a full panel of DJ/activists to discuss the issue of purpose.
I say "passion and purpose" all the time, but what does it really mean? How can you find your purpose? How can you drive your goals home so that you can advance your DJ career or skillset? An excellent and inspiring discussion takes place amongst the panel as we all present our own unique perspective on purposeful DJing. Special thanks to Joe Pardo, Casie Lane, and Kilma for joining me on the show today!
In this episode, we chat about:
What "purpose" means in a DJing context
How the influence of others affects our progression
How to maintain focus, in spite of "dream stealers"
Gaining a sense of direction
Why it's important to be a professional
Personal purpose vs. professional purpose
Common traits amongst successful dreamers