#JoePardo On #Audacity2Lead #Podcast About Being #Influential A #Blogger #Podcaster @DreamersPodcast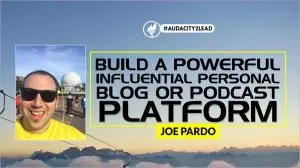 I can't thank my new friend Dayo Samuel enough for having me on his show! Getting to talk about my roots in blogging going back to being a kid with a Geocities website. I haven't really thought about all of the years of web developing leading up to where and how I am now. Also, getting to chat about the influence and power of my show Dreamers Podcast was really great to reflect on as I press forward.
I hope you all enjoy the interview, please make the jump and support Dayo's great show Audacity2Lead!
http://www.audacity2lead.com/build-a-powerful-influential-personal-brand-with-a-blog-or-podcast-platform/