From Wheel Chair Bound To Fitness BEAST, Lorie Foster Returns!
Subscribe: Apple Podcasts | Google Podcasts | Amazon Music | Android
About Lorie Foster
I am so proud of Lorie Foster's journey to going from needing a new wheel chair to be able to continue the path she was on with her life to no longer needed a wheelchair! She is INCREDIBLE and is sure to inspire everyone she meets. Way back in early 2015, I had her on the Dreamers Podcast to help raise money for to be able to afford a new wheelchair. She told me at the 1 year anniversary of the Dreamers Podcast that she wanted to do a 5K in her wheelchair. After some set backs due, she was finally able to do a Spartan 5k… And wound up not even needing the wheelchair!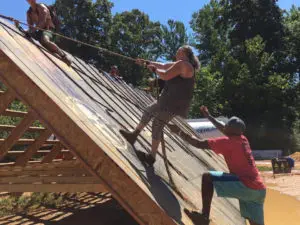 This follow up interview happened at the first ever DreamCon. Find out more about DreamCon, including how to buy the virtual ticket for only $9.99.
Check out her first appearance on the show way back in episode 134!
P.S. Happy 4th of July!
Connect with Lorie Foster
episode 300