That time I produced an episode of NAMM Foundation's Podcast with Ben Folds and Ben Vereen!
When I got asked to sit across from the amazing Ben Folds and Ben Vereen for a hour while they recorded a podcast with the president of NAMM, I was ecstatic! I had to drive a little over a hour to get to a hotel where they were staying at for the DNC, but it could not have been more worth my time. Everyone was in Philadelphia to advocate for music and the arts.
I brought mics, mic stands, a voice recorder, a mixer, 5 pairs of headphones, and more for this event so I could be prepared for anything. When I arrived I promptly got to setup and test all of the equipment. Of course I ran into a slight issue with my equipment but was able to knock it out before the recording of the NAMM Foundation Podcast, "Talking Up Music Education" got started. Afterwards, I even got to take a picture with Ben Folds which you can check out below.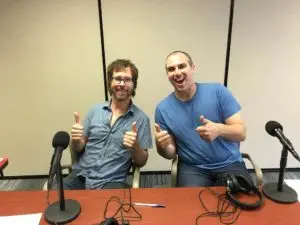 I invite you to listen to the episode as it is was just a magical experience for me! Ben Folds and Ben Vereen talk about the importance of music education in this episode.  I found myself wanting to ask questions but had to stop myself as I did not have a mic in front of me (I wasn't hosting the episode).
You can subscribe to their show on:
Listen to the episode I produced, here.