How I #Fixed My #Twitter #Experience – #SocialMedia #Strategy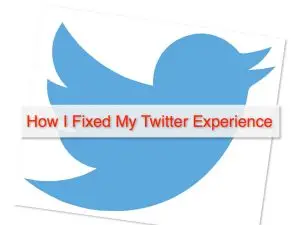 Back Story
I never used to think much about my Twitter following strategy. That was until I found out about Twitter bombing [find out what Twitter Bombing is here].
Six months into building my podcast's Twitter account [@DreamersPodcast], I no longer wanted to look at my feed. I found it very frustrating and stopped seeing value in it. The problem I had created was following and following back too many people who aren't interacting.
I spent most of my time scrolling through my feed to find people I actually wanted to connect with. Most of what I was scrolling past was a constant stream of picture-less, "gotcha" titles, nameless, faceless and short URL (ie bit.ly) tweets to articles I was never going to read and were being tweeted out every five minutes or less.
Wake Up Call
After my Twitter Bombing article is when I decided to start taking action. Now let me say, these aren't nameless and faceless Twitter bots. These accounts are linked to people that have huge followings on Twitter, 10k to well over 100k. Apparently, something works for them but all I see is generic text tweets every five minutes with little to no interaction with followers.
That is when I stopped treating Twitter like Facebook and started unfollowing anyone who tweeted too much or had little interaction with other accounts. Interaction is the key to Twitter and I can't believe I fell into a follow back trap. Many times these accounts will unfollow me within a day or two.
After unfollowing over 100 accounts by hand, I decided to do a Google search for a way to make this process easier and quicker. I wish I had done it sooner because I came across http://UnFollowers.com, which made the process infinitely more efficient. It allows you to quickly see who follows you, who follows you back, how many "fans" you have, which accounts haven't tweeted in a scalable time frame, and who recently unfollowed you. The best part is you can unfollow up to 100 people per day for free! I was able to cut down my "following" from around 700 to 500 with ease!
When I Follow/Follow Back
            Now I do not propose to know everything about Twitter, but I do know a lot about interacting with people. If you follow thousands and have thousands of followers (follow backs) and you follow me I probably I will not follow you back. Especially if I don't know who you are because, most likely, in a few days I will see you on my unfollow list. If your account is a generic tweet several times an hour, I am probably not following you regardless if I know you. The exception to both of these rules is if I see enough social interaction with followers. I want to see that there are conversations that I can jump into and contribute to.
My Current Tweeting Habit
            I have my blog tweet out old posts once per hour. While my podcast tweets out once every four hours. I don't feel this is overkill, personally. It seems to have done well for me without coming off as spammy to people who follow me. I also, try to jump on Twitter at least once a day to interact with actual people. Keeping my ratio of posts to interactions is not a science, but I feel it is important for people to become fans and eventually friends with the human Joe Pardo and not a bot that does zero interaction.
I really want to hear what your Twitter strategies and philosophies are! So please leave a comment below so we can have a discussion about it. 🙂